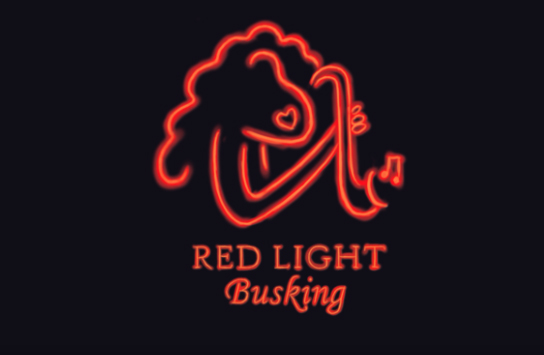 24 Aug

The Red Light Busking Events

A few Saturdays ago I found myself navigating my way down the middle of Walthamstow's busy market as this was the only place to find a Bank open in the area on this day of the week. Trying to avoid the baby buggy brigade, the trolley terrorists who flanked the stalls either side of the street, or the stop start, chit-chatting parents with erratic toddlers wanting an ice cream, sweetie or whatever shinny object catches their eye, I was cautiously plotting my route through this sea of pedestrians to return to my car in the hope I wouldn't get yet another parking ticket. I was making good headway and on track to beat my 15min in and out self imposed time limit until my concentration was broken by the smooth amplified sounds of an acoustic guitar under the soulful voice of a male vocalist who could possibly be described as Maxwell-esk.

I wasn't surprised, as I rounded the stall, to find a busker strumming passionately and pouring his emotional lyrics into a mic with eyes closed tight. I was, however, amazed to find that he wasn't just on the street corner with an upturned hat banging out cover versions of old pop songs, but instead, behind the glass of a clothing store, in their window turning out original songs to an audience of shoppers, who like me, were drawn in by his Pipe Piper melodies. Conscious of my car, I still couldn't just walk on by. He was that good, and in the midst of this pandemic I had almost forgotten how much I appreciate live performances let alone being so up close and personal.

Being situated in a shop window wasn't by chance, as he was part of a rosta of artists scheduled to perform in selected outlets in the Walthamstow area over the next few months. Winning a bid from the Borough of Culture funding, David Anglin was able to set up the Red Light Busking Company to enable professional buskers and other artists the opportunity to reach their audiences in a safe environment.

It's a simple concept which has been very well executed with fantastic results. The shops benefit from the additional interest of the live artists performing in their windows. The shoppers are treated to a quality free concert while picking up their weekly groceries and the councillors get to pat themselves on the back as they are truly living up to the title of Borough of Culture. It's a win win win all round.

In their own words, the plan of Red Light Busking is to provide the high street with high quality cultural experiences with music being at the heart of what they do. Bridging the gap between local businesses, cultures, and ages, so that artists and young people with lived experiences get to create and collaborate with local businesses while community members get to experience the creations as live creative, musical cultural experiences.

I look forward to attending their next shop window concert, but I'll be sure to leave the car at home as the £65 parking ticket I incurred for overstaying could have gone to much better use.
For more information on further events check out the website: www.redlightbusking.com